Heptameron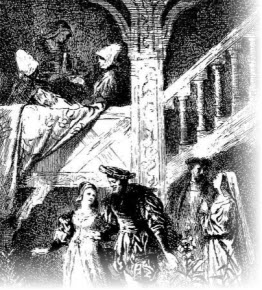 Heptameron
The original title of the Heptameron was the Contes de la Reine de Navarre, which means in French "The Tales of the Queen of Navarre," after its author Marguerite de Navarre.
Marguerite de Navarre, known also as Marguerite de Valois and Marguerite D'Alençon: daughter of Charles d'Orléans, Count of Angoulême, and elder sister of Francis I. ; born. Apr. 11, 1492.
She had great natural gifts of mind and person, loved study, and learned Greek, Latin, Italian, Spanish, English, and even Hebrew.
In 1509 she was married to Charles III., Duke of Alençon, but the marriage was not happy. Her husband perished in the battle of Pavia. She made the dif- ficult journey to Madrid to be near her brother Francis in his captivity, and was largely instrumental in effecting his release.
In 1527 she married Henri d'Albret, Count of Warn and King of Navarre, by whom she had one daughter, Jeanne, mother of Henry IV.
At her court at Nérac she extended a large and liberal tolerance, if not sympathy, to Protestant ideas, protected Marot and other refugees from religious persecution, and was herself accused of heresy. She surrounded herself with scholars and poets and was a generous patron of art and letters, rivaling if not surpassing Francis I. in furthering the movement of the Renaissance. She cultivated literature industriously.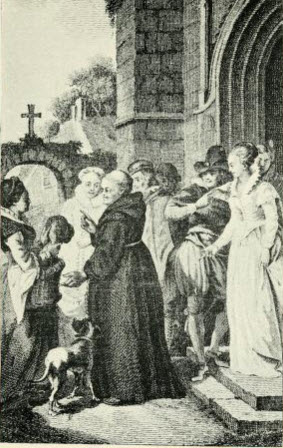 Her best-known work is the collection of Contes de la Reine de Navarre, stories inspired plainly by those of Boccaccio, and cast in the same form as the Decameron; they purport to be told by a company of ladies and gentlemen to while away the time during which they are detained by a freshet in the Pyrenees. The work was interrupted by the mourning into which she was plunged by the death of Francis I. (1547), when she had completed only seventy-two tales, or seven of the ten days of which it was to consist; hence its common name, the Heptameron. These stories, while sufficiently marked by the gay and frank sensuality of the Renaissance, have a more delicate sentiment than those of Boccaccio, and are the pretext for subtle discussions on questions of morals or courtesy. She wrote also a large number of poems and other works, some of which appeared in 1547 with the title Marguerites de la Marguerite des Princesses, and Lettres and Mémoires that reflect the graces of her mind and character. D. Decs 21, 1549.
The Heptameron has been best edited by Leroux de Lincy (3 vols., 1853-54); the Lettres by Genin (2 vols., 1842-43); the Margueritcs by F. Frank (4 vols., 1873-74). A. G. CANFIELD.

Heptameron
Heptameron

So what does Heptameron mean?

Heptameron is a collection 72 short stories originally written in French by Marguerite de Navarre



The stories are told 10 at a time over a period of 7 days



Heptameron is derived from two Greek words: Hept (seven) and Ameron (days).



The book was not given the title Heptameron by its author. Navarre planned to write 100 stories told over 10 days, but she died before it was completed.



Heptameron is quite vulgar, sexy and irreverent. A favorite target are corrupt priests and monks. This is surprising given that the author was genuinely religious.



| | |
| --- | --- |
| | Read Heptameron |